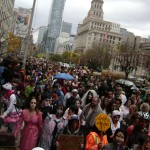 Seeing as it's Halloween, I'm going to play devil's advocate with the help of some zombies and explore the Gordian knot of consciousness. I think most scientists would hold a physicalist view when it comes to their view of how the world 'really' is. That is to say, objectively speaking, all there is to the universe are the various interacting fields and particles of physics. The problem with such a view is that our conscious selves prove very difficult to incorporate into this picture. We are subjective beings. Finding out how consciousness came about is known as the hard problem of consciousness.
David Chalmers, a philosopher of mind, formed a clever thought experiment to illustrate the difficulty. Okay, so imagine a world where everyone has the outside appearance of being conscious, for instance they laugh when you tell a joke,  shirk away from pain, gaze at sunsets etc., the only difference is that they have no internal subjectivity, they're automata or zombies. I don't see any problem with conceiving of such a place, so it looks like a possibility. But if these automata are indistinguishable from us on the outside in terms of their behaviours and actions then evolution won't be able to distinguish between them and us, so why consciousness? It looks like an unnecessary extravagance. It also suggests that there is something more to the world than the physical, because our world isn't like that, we, or at least I, know I'm conscious.
It seems to me that our theories as to how and why consciousness evolved have fallen short in their efforts. A lot of work is dedicated to finding the neural correlates of consciousness, but that doesn't get us anywhere! Neurons are made up of the same material as the rest of the cells in our body, but heart cells don't generate conscious beings so why treat neurons differently. So we're really left with two questions. How do physical things generate subjective thought? And once we get there, why is it advantageous to be conscious? It's called the hard problem for a reason.
Author
kanead[at]tcd.ie
Photo credit
wikimedia commons