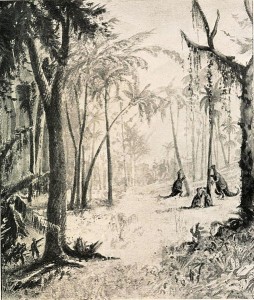 Early ecological research relied on adventurous naturalists striking forth into unknown territory and expanding our knowledge of the natural world. This exploratory work is far from complete and many species new to science are still being identified. However, in order to study and investigate the remaining unexplored frontiers, knowing where they are is a fundamental necessity.
Finding our way around has never been so easy. GPS trackers are readily available; Google maps takes the stress out of navigating unfamiliar cities and Google Earth allows us to look down from above on some of the most remote regions of the world. The works of early cartographers with approximations of coastlines and vague "beyond here there are monsters" warnings can be relegated to historical archives. However, a recent discovery by the research vessel Southern Surveyor during its surveys of the seabed off Australia reminds us not to be so trusting of our highfalutin technology.
Sandy Island featured on weather maps and was depicted on Google Earth as lying halfway between Australia and New Caledonia. However, the 24 by 5 kilometre island was not marked on navigation charts. When the Southern Surveyor diverted its course to investigate the supposed island, they found only empty ocean with a depth of about 1.5km. Records of the phantom island seem to trace back to cartographic errors reported by the whaling ship, Velocity, in 1876. The island has now been removed from Google Maps.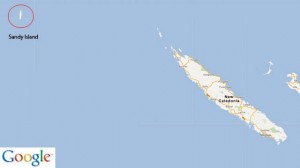 From a biodiversity perspective, the non-existent island could have been home to a whole host of unusual and endemic species. The surrounding islands in this region of the South West Pacific are the remaining splinters of Australia's separation from the ancient super-continent, Gondwana. They have high percentages of endemic species with New Caledonia recognised as one of the 25 global biodiversity hotspots. However, human colonisation of the Pacific islands caused significant biodiversity loss which continues today. If Sandy Island had existed, we can only speculate about the number of weird and wonderful creatures which, in the absence of human threats, could have called the island home.
Inaccurate maps from the 19th Century aren't that surprising but it is pretty incredible that in our technologically savvy age an island the size of Manhattan just doesn't exist! One expedition member commented that the mistake "raises all kinds of conspiracy theories" especially when the CIA is one of the contributing sources to the world coastline database.
I guess this is just a reminder that Google is not omnipotent after all!
Author
Sive Finlay: sfinlay[at]tcd.ie
Photo credit
wikimedia commons