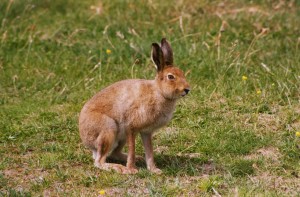 At first glance, many scientific ideas can appear counterintuitive. A press release from a leading Irish wildlife charity in support of the proposed coursing ban prompted me to attempt to balance the discussion of coursing impacts on the Irish hare population. The bill to ban coursing is due to come before the Dáil in the coming months. However, the above press release immediately struck me as biased, and so I felt a discussion of coursing impacts was required before the public were asked to sign any petitions in support of this ban. For those unsure of just what coursing is, it is a popular field sport which consists of a hare being chased by a pair of greyhounds over a short distance. Unlike fox and deer hunting, the aim of coursing is not to kill the hare. It is instead a speed and agility competition between two dogs, where each is awarded points depending on its ability to "turn" the hare from a direct route along the field. Irish hares (Lepus timidus hibernicus Bell 1837) are caught and held in captivity prior to an event during which the hare is coursed within an enclosed park. A running hare is given a 75m head start before the release of two dogs, whose performance is assessed by a judge, and surviving hares escape into an area from which the dogs are excluded. The duration of the pursuit is relatively brief, usually lasting less than a minute, and surviving hares are returned to the wild after the event.
The IWT states something which a few of us may agree with; that Ireland is lagging behind in terms of its attitude to welfare and conservation of native wildlife. However, the idea that a coursing ban would in some way improve this status is highly questionable. Welfare issues need to be taken into account, but these considerations must be viewed in parallel with the beneficial aspects of coursing, such as habitat conservation and the associated protection of both target and non-target species, before any final judgements regarding coursing acceptability can be made. It is perhaps unintuitive, but evidence indicates that coursing has an extremely large positive impact on hare numbers. Mortality of coursed hares stands at just 4.1% since the implementation of dog muzzling in 1993, and research has found coursing to have negligible impacts on hare populations due their large intrinsic rates of increase. People who participate in coursing maximise hare populations in coursing preserves through predator control and set aside to conserve habitat suited to the Irish hare. In fact, it is agricultural intensification (an issue completely ignored in the IWT article) which is more likely to blame for population declines. Habitat management to encourage target species for hunting can protect against the detrimental effects of modern agricultural policy on biodiversity. Irish Coursing Club preserves host a hare density 3 times greater than that supported by the wider countryside. What is more probable is that coursing is actually stemming the tide of anthropogenic destruction of many species our native wildlife (including corncrakes and many other farmland bird species) through habitat conservation aimed at artificially increasing hare populations for coursing. If coursing were to be banned in this country, this practice would be completely abandoned due to waning interest in encouraging hare numbers, and could potentially have serious ramifications for other wildlife which benefit from associated habitat management and predator control. Incentives to promote hare conservation would be required, but it's questionable whether these would produce the same results as coursing-associated management due to a lack of personal interest for farmers and other landowners who practice coursing. Hare conservation in the absence of coursing, similar to that of other species benefiting from game management, would be a costly endeavour and would be unlikely to be awarded the necessary funding in the Republic of Ireland with the current economic climate.
We have the opportunity to be forward-thinking, innovative and inclusive in the way in which we achieve sustainable conservation of our native wildlife, something which appears all the more important in light of the EU agricultural policy reforms which were leaked in recent days. We can only hope that a review of the research will stop the Dáil bowing to ill-informed political pressure and perhaps, the future of farmland birds and our only endemic mammal, the Irish hare, will be ensured.
Author
Emma Murphy: butlere1[at]tcd.ie
Photo credit
wikimedia commons