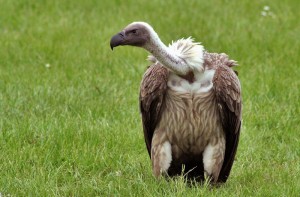 My PhD involves studying the foraging behaviour of vultures. So far I've done theoretical work and also had the luck to get some second hand empirical data. But I'd like to be able to get some field data first hand. To that end I'm setting off to Swaziland on Saturday with the intention of building a vulture restaurant and a walk-in trap. The first item takes a little explaining. Vultures are carrion feeders, which means their food source is unpredictable, the bird never knows when the next wildebeest is going to drop dead. So they're quite sensitive to declines in food availability. But a vulture restaurant is a conservation tool that acts as a supplementary feeding station for the birds. The people organizing the restaurant can deposit carrion at the site thereby providing an extra food supply for the vultures. This is done to keep the birds within an area, to feed them during times of food scarcity or in my case to aid in their capture.
Alongside the restaurant we're going to build a walk-in trap, a simple structure that the birds walk into before we close the door behind them and have a PhD's worth of data points. Well, it's not quite that easy. I want to be able to find out to where these birds are foraging at a high temporal resolution so we will be putting GPS tags on the vultures once we capture them. This means some poor soul will be entering the trap and extracting the birds one by one, each animal getting tagged before being released back into the wild. I should stress this has been done before on many occasions and the birds are all freed within minutes without any ill effects.
So far a lot of research done in this area provides us with broad-scale movement patterns. With my finer scale data I'll hopefully be able to pick out some quite specific aspects of vulture foraging behaviour. Wish me luck!
Author
Adam Kane: kanead@tcd.ie
Photo credit
Wikimedia commons