Between the 1st and 2nd of May several members of the Trinity Centre for Biodiversity Research got their game faces on for the inaugural Intervarsity BioBlitz Challenge. For the first time the Trinity fox and co were pitted against the best biodiversity on offer from the DCU, NUI Galway and UCC campuses.
The stakes were high but the goal was simple; identify more species on campus then any other college in a 24 hour period and become the first college biodiversity champion of Ireland!
Kicking off Trinity's effort to win the championship the birdwatchers were up bright and early to catch the dawn course. With 19 species identified it was the Sparrow hawk that caught the eye (but evaded the camera lens) of our inner city campus birds.
While the birders were digesting their findings some early morning pond dipping was throwing up its own surprises with a three-spined stickleback found in what looked an inhospitable pool out the back of the Zoology Department.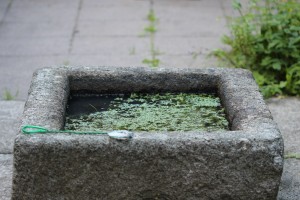 Meanwhile in the more hospitable setting of Trinity's own little secret garden some black ants were having a midday honeydew snack from their aphid herd during our plant identification walk.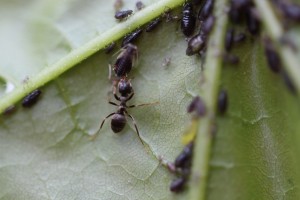 Although many of the 32 species of invertebrates were found amongst the plants and pools, it was in the nooks and crannies of various building walls that Trinity's diversity of arachnids, such as the snakes back spider, were found to reside.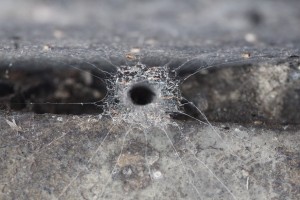 While many volunteers were out rummaging in the leaf litter, Rachel Kavanagh was busy coordinating efforts at the central hub in the Science Gallery. There were also some inquisitive guests from St. Mary's Boys school learning about pollinators with Green Bee Education.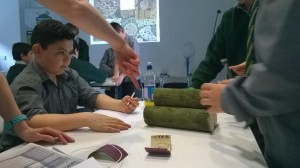 As the day passed-by collecting and identifying specimens the deadline quickly approached and results were coming in. Galway won with a massive 581 species, with Cork on 451 leaving the race to avoid the wooden spoon between the Dublin Campuses. Unfortunately despite the heroic efforts of everyone, especially the botanists who identified 245 species of plants, Trinity could not avoid the dubious wooden spoon award, finishing with 346 and losing by just 27 species.
However while we didn't win their was plenty of consolation prizes to be found as @EndangeredDAVE left some postcards and paintings of endangered Irish species in various spots around campus.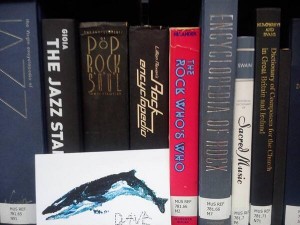 With an impressive 346 species recorded in an inner city campus and an incredible increase on previous years (16 species in 2012 and 126 species in 2013) TCD's form is only on the up with the Trinity fox looking to be the top dog in next year's event.
Look out for bioblitz events near you this weekend!
Author and Images: Kevin Healy, healyke[at]tcd.ie, @healyke