First in a series of posts on life after an undergraduate degree, Alison Boyce gives an account of the life of a scientific technician.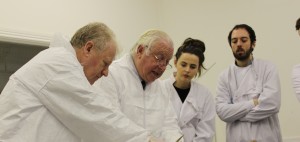 Science, engineering, and computing departments in universities employ technicians. Anyone working or studying in these areas will have dealt with a technician at some point but most will be unaware of a technician's route into the position and their full role in education and research.
Technical posts are varied e.g. laboratory, workshop, computer. Funding for technical support is afforded by the Higher Education Authority (HEA) to provide assistance in undergraduate teaching. This is the primary role of technical officers (TOs) after which the Head of Discipline or Chief Technical Officer (CTO) decide further duties.
History
Until the early 1990s individuals joined the university as trainee technicians. Many came through the ranks starting as laboratory attendants, a position which still exists. Trainee technicians would spend one day a week over four years working towards a City and Guilds' qualification. At this time the occupation was mostly hands on with little theoretical work. Many started young by today's standards (starting at 14 years old was not uncommon), and they continued to study well past diploma level. Changing the nature of the role so much that nowadays almost all technical officers have primary degrees and come with a more academic view of the position.
In 2008, it was agreed that incoming technical officers must hold at least a primary degree in order to work at Trinity College Dublin. Those looking for promotion to Senior TO would require a Master's and to CTO, a PhD. Those already in the system would not be penalised, local knowledge and experience are recognised equivalents and rightly so. This agreement gave rise to the job title changing from technician to technical officer reflecting the removal of the apprenticeship system. Many still use the old name but it doesn't cause offence. These qualifications represent minimum requirements. TOs constantly train, learning new technologies and procedures. It is difficult to resist the temptation of further study when you work in an educational environment.
From graduate to TO
Gaining experience in medical, industrial, or other educational laboratories is most important.  Further study in areas general to laboratory work are also advantageous e.g. first aid, web design, or statistics. Sometimes researchers move into a technical role temporarily and find they enjoy it so stay on. Applying to a discipline with some relationship to your qualifications makes sense; a physicist may not enjoy working in a biological lab. Having come though the university system many graduates would be familiar with teaching laboratories and their departments. Seeing a place for yourself in the future of a discipline is vital for career progression as it is seldom you will see a TO moving from one department to another. It should be possible to adapt the role to your skills or study to meet those required for promotion.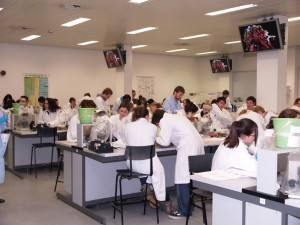 Day to day
All labs/disciplines differ but certain core responsibilities fall to the technical staff at some point. Running practicals is the biggest responsibility during term time with design and development out of term. Some departments in science and engineering have lab and field based classes. Various modules require field sampling in preparation for the practical. Getting out on the road can be very satisfying even if you are at the mercy of nature!
If you consider what it takes to run a home you'll have an idea of what a TO does to maintain a lab/department. Ordering supplies and equipment. When something breaks, repair it or have it mended in a cost effective way. Logging, maintaining and installing equipment, health and safety information and implementation, chemical stock control, running outreach programmes, planning and managing building refurbishment, organising social events, updating the discipline's web pages, assisting undergraduate student projects and much more.
These are just the basic duties and do not describe the essence of technical work at university level. Firstly it is to guide, instruct, and assist in scientific matters. An analytical and practical mind is necessary. You must have a willingness to facilitate the design and execution of projects in teaching and research. If you are eager to help and learn, it's the perfect job for you. The information base for many materials and methods is the technical staff. Local knowledge and an ability work in consultation with other departments is often key to completing a project. Ideally, when a researcher leaves the university, their skills should pass to a TO keeping those abilities in-house. Imparting them to the next generation.
If you're very lucky, you'll be in a discipline that encourages you to take part in research and further study. It's wise to check where a discipline or school stands before considering work in that area. Career opportunities open up in such disciplines. CTO Specialist is a promotion given to someone with expertise of a specialist nature e.g. IT, histology. Experimental Officer is a post created to further research in a discipline and often requires some teaching.
Overall, the position is what you make of it. If you strive to improve and adapt, you'll find it immensely rewarding. Many practical classes repeat annually but on a daily basis you could be doing anything, anywhere. Being a technical officer is stimulating and constantly changing, keeping your brain and body active. You won't be sitting for too long when you're surrounded by young adults in need of advice and equipment. The relationship is symbiotic, your knowledge and their enthusiasm eventually gets any problem sorted.
Author: Alison Boyce, a.boyce[at]tcd[dot]ie
Alison Boyce has worked as a technical officer at Trinity College Dublin for over 20 years. In that time, she has acted as a master-puppeteer in seeing countless undergraduate projects through to completion. Her in-depth knowledge of technical, theoretical, and practical aspects of natural sciences has made her one of the most influential figures in the history of this department.
The editorial team thanks her for taking the time to write this piece.