In 1993 Free Willy leapt onto cinema screens around the world. The story about a young boy who saves a killer whale from a run-down theme park was an instant hit for Warner Bros. However for Keiko, the whale who played Willy, the story did not have a Hollywood ending. While Willy jumped to freedom as the credits rolled, Keiko remained in captivity. What followed was a global effort to return Keiko to the wild at all costs, even to Keiko himself.
Keiko, a male killer whale (Orcinus orca), was born in the North Atlantic off Iceland, sometime between 1977 and 1978. His life took a strange turn when in 1979 he was captured and sent to the Icelandic aquarium in Hafnarfjörður. He was then sold to Marineland of Canada Inc. in 1982 and moved to Ontario, joining a small group of other killer whales. Finally, Keiko was sold to the amusement park Reino Aventura in Mexico City in 1985, for $350,000. While in Mexico Keiko lived alone in an approximately 500,000-gallon chlorinated tank, except for the occasional company of Bottlenose Dolphins. Having little animal companionship, Keiko developed strong bonds with his human carers.
Keiko's life took an even more unusual twist when he was cast in the lead role of the 1993 Warner Bros. film, Free Willy. This surprise hit reached a global audience and was a huge economic success for the studio. Keiko depicted Willy, a killer whale saved from a run-down theme park and returned to the wild. However when filming ended, Keiko remained in captivity, languishing in Mexico. The irony of the situation did not go unnoticed by the press, and activists waged a public campaign to make Keiko the first captive killer whale to be returned to the wild.
With growing public support, the Free Willy-Keiko Foundation was established in 1995 with $4 million from Warner Bros. and $2 million from the cellphone billionaire Craig McCaw. Reino Aventura agreed to donate Keiko to the foundation and in 1996 he was moved to an extensive 2-million-gallon seawater rehabilitation facility which had been constructed at the Oregon Coast Aquarium, at a cost of $7.3 million. Keiko's health drastically improved once arriving in Oregon and he gained several thousand pounds. In Oregon, the complex task began of teaching Keiko how to be a whale again. Keiko had to be taught basic skills such as how to hold his breath for long periods, swim greater distances, and to ultimately catch and eat live fish. These skills would be critical if Keiko was to ever be returned to the wild. Progress was made and in August 1997 Keiko did indeed catch and eat his first live fish. While in Oregon Keiko became a public sensation and between 1996 and 1998 more than 2 million visitors made the pilgrimage to the see the Hollywood celebrity at the Aquarium. However Oregon was not the end point of the project.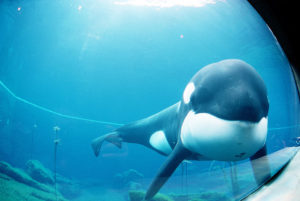 The staff of the Free Willy-Keiko Foundation set the goal of releasing Keiko into a sea pen in the North Atlantic by 1998. Negotiations with multiple governments led to Iceland being selected as the release site. Ireland was also heavily considered and significant government support was put forward, but the lack of frequent killer whale sightings around our coasts made this option unrealistic for Keiko's long-term release. In 1998 it was determined that Keiko was exhibiting normal killer whale behaviours and was healthy enough to be released. Up to half of Keiko's daily intake of food now comprised of live fish and on September 9th, Keiko was lifted from his tank and transported to Klettsvik Bay in Vestmannaeyjar, Iceland, 19 years after he had been captured.
No expense was spared in Iceland. The project had nearly 20 people, boats and even a helicopter to ensure Keiko's reintroduction had every chance of success. Keiko's team continued to feed him while in Iceland and once fitted with a tracking device, Keiko was finally taken out to sea on 'sea-walks'. The success of the project relied on integrating Keiko into an existing pod of wild killer whales, preferably the pod from which he had been taken. However Keiko's early interactions with wild killer whales were not as promising as had been hoped. When in the presence of wild killer whales, Keiko remained on the periphery, at distances of 100–300m, and he was not observed feeding when among the wild killer whales. Instead he remained motionless or swam slowly. Stomach samples taken after these interactions showed no evidence of any food remains, confirming that Keiko did not feed when with wild killer whales.
Over time progress was observed and on the 30th July 2002, a brief physical interaction was seen when Keiko dove among wild killer whales. However a tail splash from one of the wild Whales elicited a startle response from Keiko, who swam back to his tracking boat. This was the only time Keiko was seen diving among killer whales and the only physical interaction observed. The project took another hit in early 2002 when Craig McCaw lost millions in the Dotcom Crash and withdrew his support from the project. With annual operational costs of approximately $3.5 million the project was taken over by the animal protection organization, the Humane Society of the United States (HSUS), with a greatly reduced budget and a 'tough love' policy. This policy saw Keiko's team downsized and interactions with Keiko by his care staff also significantly reduced when in the presence of wild whales. Yet hopes grew when it finally seemed as though the entire experiment had paid off.
In August 2002 Keiko left southern Iceland and began a 900-mile journey to Norway. It was hoped that Keiko had finally been accepted by wild killer whales and had chosen to leave humans. Unfortunately, when he showed up in the Halsa Community inside a Norwegian fjord he wasn't following a pod of killer whales, he was seeking contact with humans and allowing children to ride on his back. He had been on his own for nearly 60 days, yet based on girth measurements he appeared in good health and it was presumed he had eaten during that period. Keiko became an instant hit and thousands of visitors came from across Europe to visit Keiko in Norway. His caretakers relocated to Norway and began feeding him once again. They continued to conduct 'sea-walks' with Keiko for the next 15 months. During his time in Norway Keiko did not interact with any wild killer whales and actively sought out and initiated human contact, frequently following boats. Keiko died on the 12th December 2003 in the Taknes fjord in Norway, alone at the estimated age of 27. The cause of death was presumed to be acute pneumonia, although no necropsy was carried out.
Keiko's reintegration into the wild was a complete failure according to numerous scientists and professionals, such as Dr Naomi Rose of the HSUS. Although he had numerous experiences with wild killer whales and was physically free to leave, Keiko continually returned to his caretakers for both food and company, never integrating with other whales. In retrospect it has been agreed that Keiko was not a suitable candidate for release due to his long history in captivity, social isolation, young age at capture and strong bonds with humans. However, Keiko's story hit an unusual chord with the public and the public's drive to see Keiko returned to the wild was something of which animal rights groups unashamedly took advantage, according to Dr Rose.
Costing more than $20 million dollars, Keiko's release has shown us that release of long-term captive killer whales is incredibly challenging, if not impossible. Although we might find it appealing as humans to release such animals, in reality this may severely impact the well-being of the animals concerned. The HSUS and other groups involved in Keiko's release wanted Keiko released at any cost and Jeffrey Foster, a trainer who cared for Keiko in Oregon and Iceland, believes that "the cause got in the way of doing the right thing [for Keiko]". Mark Simmons, the director of animal husbandry for the Keiko Project, has even gone on to speculate that Keiko's release from captivity amounted to animal abuse. Mr. Simmons has noted that Keiko's health was drastically impacted when he was reintroduced and had it not been for continued medical interventions, Keiko would have died shortly after release.
In reality Keiko was a confused animal who depended on people, and the fact that his return to the wild was not a Hollywood success has raised huge concerns over the ethics of trying to return other captive Whales and dolphins to the wild. There has been a recent surge in opinions asking for the release of all captive killer whales, however if Keiko has thought us anything, it is that this is potentially self-serving and could be dangerous to the individual animals concerned. Today approximately 56 killer whales live in human care, the majority of whom were born in captivity. If Keiko, an animal born in the wild and with every resource available to him, could not be returned to the wild successfully, then what can we expect of animals born in captivity? And who can we expect to pay for it, considering that the sheer cost of maintaining Keiko in a sea pen proved unsustainable.
Keiko lived for five years in Iceland and Norway, but he never came close to being a wild whale again. Removing Keiko from Mexico was undoubtedly the right thing to do, however the best thing for Keiko in the long-term may not have been his release. The fact that maintaining Keiko in Iceland was financially unsustainable, and that Keiko never reintegrated into the wild, suggests that the best thing for Keiko may have been to live out his life in Oregon. Residing at the Oregon Coast Aquarium would have provided long-term financial stability to the project, ensuring the best possible quality of life for Keiko and perhaps even extending his life. This would also have allowed Keiko to remain in the company of the humans he relied on so much, rather than being forced into a life that he maybe never truly understood.
Author: Andy Mooney @andymooney13