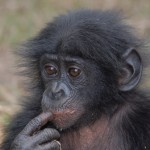 I spoke before of how to use mathematics to convey an idea in biology. Here, I'll take a different tack and discuss a paper in which the author makes his argument with naked English. The author in question is Nicholas Humphrey who in his famous paper 'The social function of the intellect' draws a wonderful metaphor of Mother Nature as an economist,
"It is not her habit to tolerate needless extravagance in the animals on her production lines: superfluous capacity is trimmed back, new capacity added only as and when it is needed".
His metaphor serves as an introduction to the puzzle of the seemingly unnecessarily inflated intellects of some animals, notably humans.
Humphrey questions if such a highly developed intellect is really necessary for invention. The ability to produce tools is generally not a result of deductive reasoning or creative thought but rather follows from aping other individuals or pure trial and error learning. The intellect must have some other function in his estimation and in the end, he proposes that it is as a social glue. The complex interactions that arise out of the social milieu require some serious intellectual horsepower,
"[S]ocial primates are required by the very nature of the system they create and maintain to be calculating beings; they must be able to calculate the consequences of their own behaviour, to calculate the likely behaviour of others, to calculate the balance of advantage and loss – and all this in a context where the evidence on which their calculations are based is ephemeral, ambiguous and liable to change, not least as a consequence of their own actions."  
Calculating the consequences of your own behaviour is one thing but understanding that others around you have motivations of their own is a huge leap in understanding. All of this is done without ever having direct access to the subjective thoughts, motives, and desires of another person. Understanding the reasons for understanding is even more impressive and Humphrey's paper has rightly influenced the theories of scientists since its publication. Most recently a study in the school that mechanistically linked sociality and selection for intelligence.
Author
Adam Kane: kanead[at]tcd.ie
Photo credit
Wikimedia commons