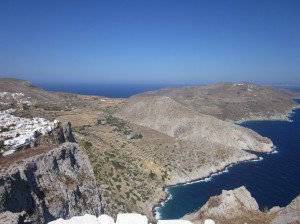 One of the many things I love about Zoology is the opportunity to work away from a desk. As an undergraduate I enjoyed field courses and summer projects in the not so exotic wilds of Ireland and Cambridgeshire – great experiences but not quite a match for the glamour of the recent TCD trip to Kenya! Last summer, however, I was fortunate enough to expand my zoological horizons by working as a field assistant in the Greek Islands.
I travelled to the remote island of Folegandros, one of the quieter tourist destinations in the Cyclades, to assist Kate Marshall, a PhD student in Behavioural Ecology at the University of Cambridge (supervised by Dr. Martin Stevens and Professor Nick Davies). Kate's research focuses on the evolution of morphological and colouration phenotypic divergences in Erhard's wall lizards (Podarcis erhardii). She is particularly interested in studying the roles of both natural selection (adaptations to avoid predators) and sexual selection (signals to other lizards) in driving the evolution of varied colour patterns in lizard populations on different islands.
Kate is modelling the lizards' colouration from the perspectives of predators (birds) and conspecifics (other lizards). Some of her early results indicate that P. erhardii populations have evolved colour patterns and behaviours that are locally adapted to different island environments. Dorsal and head colour patterns seem to be well matched to the lizards' local environments- indicating a possible function in predator avoidance – while the lizards' sides are brightly coloured and may play roles in conspecific signalling and sexual selection (Fig. 1).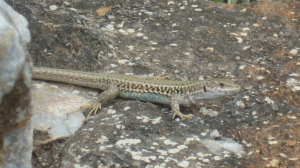 Some of the most enjoyable parts of my time in Greece involved trying out the unusual techniques which form part of Kate's research methods. For example, I helped her conduct a pilot study to assess whether predator attacks on the lizards might vary in different islands. This involved making 3D lizards out of modelling clay, distributing them across line transects and checking them for signs of predator attacks such as rodent bite marks. The whole process attracted a few curious looks from the locals as we marched through town with boxes of clay lizards! However, these glances were nothing compared to the reactions elicited by our lizard wrangling attempts. Using an extendable fishing rod, dental floss and noose-tying know-how, we patrolled the island's hiking paths trying to catch unsuspecting sunbathing lizards by slipping the noose around their necks. The technique was successful in some of Kate's other field sites but unfortunately we had no such luck during my time – just some very confused stares from locals and tourists as we slowly "fished" our way down the mountain side!
I thoroughly enjoyed my time helping out in Greece. The project covers an interesting area of evolutionary biology – studying the often conflicting influences of both natural and sexual selection in driving phenotypic divergences within species. It was also a great learning experience because it gave me an insight into some of the details and challenges involved in planning a PhD before I started my own project. Finally (and perhaps most importantly), it wasn't all hard work – combining fieldwork with swimming in the clear blue Aegean or afternoons at the beach were just further confirmations that you can't beat the perks of being a Zoology student!
Author
Sive Finlay: sfinlay[at]tcd.ie
Photo credit
Sive Finlay, K. Marshall