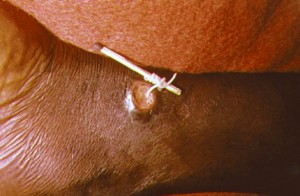 The media is all abuzz about the Carter Centre's recent announcement that 542 cases of guinea worm infection were reported in 2012. That is a remarkable achievement, considering that 3.5million cases where the reported when the Carter Centre began their eradication programme in 1986. The guinea worm (Dracunculus medinensis) is a particularly gruesome parasitic nematode that causes painful and debilitating disease. It is one species no one will be too sorry to see go. Well no one except the folks at the (tongue in cheek) Save the Guinea worm Foundation.
Perversely, considering our track record of causing extinctions, actually trying to get rid of a species can be extremely difficult. Targeted eradication of disease in humans has been successful only once before, with small pox. That required a massive and expensive vaccination programme and it is unlikely that the mandatory aspect of the vaccines would be tolerated today. However, helminths are a different beastie altogether.  Helminths (parasitic worms) differ from pathogens in that, with a few exceptions, they don't multiply within human hosts or have direct transmission. Helminths require a period of passage through the environment, either as infectious eggs or through other intermediate hosts. The guinea worm life cycle involves water fleas (Cyclopidae) as intermediate hosts.  Water containing infected water fleas is drunk and the parasites are released. After about a year of maturation, females emerge via a painful skin blister, which erupts on contact with water, releasing thousands of larvae ready to continue the cycle.
The peculiarities of the life cycle meant the eradication programme was successful, not though vaccination or medication, but through changing people's behaviour in the key areas of transmission and infection.  To prevent infection people were taught about the need to filter drinking water, particularly standing water where cyclops abound. The burning sensation caused by the female worm emerging meant people often cooled the blister in a nearby pond, usually the same the one that supplied drinking water.  By educating about the link between this behaviour and infected ponds, transmission of the larval stages was successfully reduced.
Of course, various other aspects of the guinea worm life cycle played a part. Cyclops is a relative large (1mm) so filtering material could be made and supplied cheaply. They are also immobile; once an infection is eradicated from an area it is easier to keep it out than in diseases like malaria. Unlike helminths that release eggs and larvae through the intestinal tract, people shedding guinea worm infectious stages are much more likely to be identified quickly.
One important factor influencing the success of small pox eradication was that the virus had no hosts other than humans. There is no wildlife reservoir from which the disease may re-emerge. Guinea worms on the other hand have been found in cats, dogs and cattle, though none appear to act as a reservoir for human infection. It may, therefore, be more correct to speak of elimination of human guinea worm infections rather than total eradication of the species. Save The Guinea Worm Foundation will be pleased.
Author
loxtonk[at]tcd.ie
Photo credit
wikimedia commons