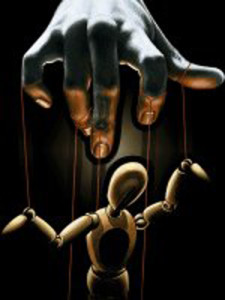 Most of us have some inbuilt sense of right and wrong; don't steal and don't murder are as basic to us as our ability to breathe. But where does this moral sense come from? In general, people of a scientific bent don't attribute it to God nor as some sort of free floating truth that can be grasped by the human intellect. If you hold a materialistic view, that is to say the idea that at its base the universe is composed of energy and matter, then it's next to impossible to understand morality in those terms. Instead the scientific view proposes our morality is an evolved feature, something which gave group-living animals a selective advantage over their amoral competitors. A social group that tries to cooperate when it's made up primarily of murderers, thieves and cheats won't get very far. By contrast a crowd of goodies can gain the many benefits of cooperation.
There is a problem with this theory though. Irrespective of its truth, an evolved morality renders us with a situation where there is nothing objectively right or wrong about anything. Even an act of murder isn't intrinsically immoral. One way to think of this is to compare it with our other adaptations. We don't consider any other evolved traits 'moral', it's not as if four legs good, two legs bad is something people really espouse. What we're left with is a moral nihilism.
'So what?' you might ask.  We're a smart species, we can decide for ourselves the best way to act such that our society can flourish. Why don't we adopt some sort of utilitarianism, the moral system that promotes the greatest happiest for the most, and judge the rightness or wrongness of our acts that way? Indeed this is the way most secular societies establish what is permissible today. This idea can even allow for the expansion of our moral circle to include other beings who are capable of suffering.
Yet the modern understanding of our selves means even a created morality still can't fairly punish or praise for a simple reason: humans have lost their soul. Modern neuroscience tells us there is no actor in our minds making decisions moral or otherwise. We are our brains, nothing more. There is no 'I', no 'ghost in the machine'. The idea of a freely willed agent who can separate his or her self from their genetics and environment is anathema to anyone who takes materialism seriously.
Much follows from this. Most notably our justice system should be radically re-evaluated in light of this idea to become more biologically informed. Currently persons with certain mental disabilities are afforded more leniency when it comes to their sentencing because they are said not to be in full possession of rational thought processes. Something has affected their ability to have done otherwise. But as automata this is true for every person who has ever existed. This is not to say that we should open up the prisons and free every criminal the world over rather that we should focus much more on promoting environments that cause people to act in a way conducive to a functioning society.
We are all of us robots acting on inputs. Some people take these inputs and act like 'goodies' whereas others can take the same information and behave like 'baddies'. Take your pick of a hero or tyrant from history. They don't deserve your respect or your contempt. That is the price of a biological morality.
Author: Adam Kane, kanead[at]tcd.ie, @P1zPalu
Photo credit: http://www.postswitch.de/wp-content/uploads/2012/05/polit-marionetten30.jpg