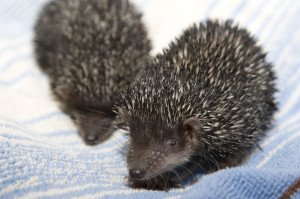 We are all taught not to judge a book by its cover, it's what inside that counts. Our new paper published in PeerJ shows that the same is true for tenrecs.
These cute Madagascar natives are often used as an example of a mammal family with high morphological diversity. It's easy to see why: there are tenrecs which resemble shrews, moles, hedgehogs and even otters. These differences are even more remarkable when you consider that tenrecs are more closely related to elephants and aardvarks than they are to any of the small, "insectivore" mammals. One of only four native mammal clades in Madagascar, it appears that tenrecs have undergone an adaptive radiation to fill otherwise vacant, small mammal niches, evolving convergent similarities to other groups in the process.
Tenrecs are clearly very diverse in their appearance. However, prior to our study, no one had tested whether this apparently high diversity was more than skin deep. We tested whether tenrecs were more morphologically diverse than their closest relatives, the golden moles.
We measured the morphology of tenrec skulls and compared their diversity to the shape of golden mole skulls. This meant spending hours poking around the collections of natural history museums and many more hours placing landmarks on skull pictures for 2D geometric morphometrics analyses (Spotify was my friend!)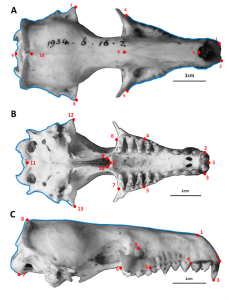 Tenrecs occupy a wider range of ecological niches (fossorial, arboreal, terrestrial and aquatic) than golden moles so we expected that tenrecs would be more morphologically diverse than their cousins. However, we found that tenrec skulls only have more diverse shapes than golden moles when we compared them in lateral (sideways) view but not dorsal or ventral views. These results show the importance of measuring morphology in many different views to gain a more complete understanding of overall morphological diversity.
The tenrec family includes species which convergently resemble many other, un-related small mammals. However, most tenrecs (19 out of the 31 tenrec species in our analysis) belong to the shrew-like Microgale tenrec genus. So, although many people tend to focus on the strange and unusual species (such as the otter shrew, hedgehog tenrec or the bizarre lowland streaked tenrec), most tenrecs are small, shrewy-type creatures that look very similar.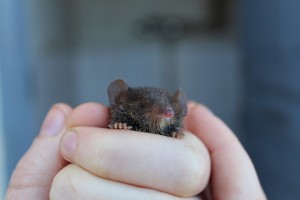 We tested whether the similarities among the Microgale tenrecs might be masking higher morphological diversity in the rest of the family. We repeated our analyses to compare the diversity of golden mole skulls to a sub-set of the tenrec family (including just 5 of the 19 Microgale species).  In this case, tenrec skulls were more morphologically diverse than golden mole skulls in all comparisons (skulls in dorsal, ventral and lateral view).
Overall, our results indicate that, while there are clear physical differences among tenrec family members, the majority of tenrecs are quite morphologically similar to each other so morphological diversity in the family as a whole is not as big as it first appears. Of course comparing skull diversity is just one aspect of overall morphology – analysing the shape of other traits such as limbs could yield different results – but our study represents the first step towards a greater understanding of the ecological and evolutionary diversity of tenrecs.
It's also testimony to the fact that you should never judge a tenrec by its cover.
Author: Sive Finlay, @SiveFinlay