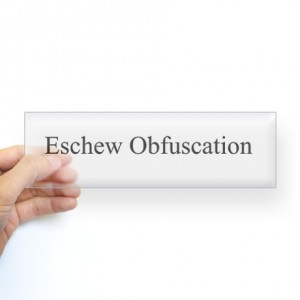 At a recent meeting on "Natural Capital", Jo Pike from the World Forum on Natural Capital drew our attention to a "sustainability jargon buster" that they developed last year. Jo has a background in communications and highlighted an important point: if we are to conserve and sustainably exploit the environment, we need a common language. Ecologists can't always agree on terminology amongst themselves but when we try to talk to economists and businesses to try and convince them of the value of the natural resources, conversations and actions can be frustrated by jargon and our opposing academic backgrounds.
How do we ever expect the general public to engage when we are thoroughly confused ourselves?
As part of a first year undergraduate module, members of the public in Dublin were interviewed to find out what they know about biodiversity and ecosystem services. People were asked 3 questions:
what do you understand by the term "biodiversity"?
do you know what "ecosystem services" are?
do you think it's important to maintain green space in urban areas?
Only 12% of respondents could give a complete correct definition of biodiversity and 28% had no idea what biodiversity was or had never heard the term before.
Even fewer people knew what ecosystem services were, with 23% of respondents giving a correct definition or defining them as "something nature does for us e.g. food/air/water". Nearly half (48%) had no idea what ecosystem services were.
Despite this lack of understanding of the jargon, 74% of respondents answered that urban green space was essentially important and only 4% said that it isn't at all important and that we should leave green space for the countryside.
So let this be a lesson to us – be clear, be concise and be consistent.
Enough said.
Author: Jane Stout, stoutj[at]tcd.ie
Photo credit: http://www.cafepress.co.uk/+eschew_obfuscation_small_framed_print,579649105