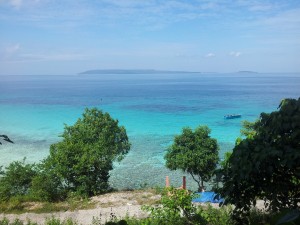 Ah the summer, how I miss it! In mid-June I departed (on the horrendously long journey) to the beautifully sunny, tropical islands off the south-eastern coast of Sulawesi, Indonesia. No, I wasn't on holidays; I am fortunate enough to call this part of the world my study site. During the six week visit, I aimed to gain further behavioural and ecological data on a number of bird species as part of my current PhD project – for more specifics on that see here. I am even more fortunate to be able to carry out this research with the financial and logistical support of Operation Wallacea, an internationally renowned conservation charity that works with researchers from all over the globe, from a variety of different disciplines. As part of this support, I work with students and volunteers in the field, helping them to design effective dissertation projects and field methods. This year I was joined by five students (as opposed to two last year) from a variety of universities in Ireland and the UK.
From the first day it was back to the usual diet (mostly consisting of rice) and routine: up at 4.30am for breakfast and out surveying by 6am. These surveys consisted of walking 1km transects through scrub, farmland and/or forest edge collecting data on my target species' diets, competitors (via agonistic interactions), social habitats, courtship and breeding, as well as their foraging and flocking behaviours. In the evening we would establish new transects and then get stuck into data entry at night. This routine makes for days that are long and tiring but hugely rewarding. Watching birds so closely allows you to gain intimate insight into their lives and observe some fantastic interactions, such as family groups of Lemon-bellied White-eyes preening each other and pairs reinforcing bonds with gifts of food. You also see how tirelessly and (sometimes) viciously males will fight off other males in order to retain their mates and, therefore, mating privileges, as we saw in the beautifully adorned Olive-backed Sunbird. Spending so much time in the field, you come across a great variety of other wildlife including troops of macaques, the strange bear cuscus, giant monitor lizards, pythons, huge fruit bats and hairy and multicoloured caterpillars that you never touch, to pick out but a few.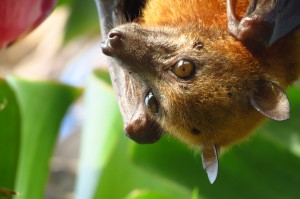 I'm delighted to say that data collection went exceedingly well for the students and myself – that is, when the weather was on our side (we had a week of non-stop rain while Ireland and the UK were experiencing a heat-wave; typical!). We surveyed five islands in total and got some superb behavioural data on each of our five target species. While managing a large group like this was difficult and tiring at times, it was a great experience and the students were a great bunch really. In the company of the assistants and students on the project, as well as the many other members of staff, students and volunteers from other projects, with their combined wealth of experience and knowledge, it was fantastic to share ideas, brainstorm and discuss current/potential future projects.
The biggest highlight for me was catching up with the elusive 'Wangi-wangi' White-eye, a bird we know very little about. It was touch and go for a while, and I was getting quite worried to be honest, but eventually we got excellent data on their flocking and feeding behaviour and who they compete with, directly and indirectly. Between us, the group racked up a number of new bird records for the islands and saw some spectacular species such as the Great-billed Kingfisher, Rainbow Bee-eater, Yellow-eyed Imperial Pigeon, Great-billed Parrot, Yellow-billed Malkoha and Red-knobbed Hornbill. Phwoar!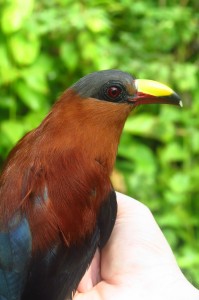 Sadly, this summer was the last of my field trips to Indonesia as part of my PhD project. I enjoyed it immensely and, for certain, I will be back. I am grateful to Operation Wallacea for allowing me to be involved in such a programme and I hope that they will continue to expand into more areas of this highly unique and understudied part of the world that is full of discoveries yet to be made.
Author and Photo credits:
Seán Kelly: kellys17[at]tcd.ie, @seankelly999