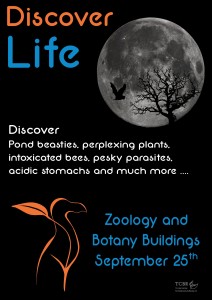 On Friday September 25, the School of Natural Sciences and Trinity Centre for Biodiversity Research will present Discover Life! in the Zoology and Botany buildings at Trinity College Dublin.
Come and see how researchers are trying to solve some of the world's most pressing problems and get a highlight of a large variety of internationally recognized research projects!
In the Botany Department ask us about how we are trying to fight biodiversity loss, search for new species and reduce future world hunger. Check out what bees and pond beasties look like up close; find out what happens in a Herbarium; taste some honey; see a wetland in a box; become a pollinator-friendly gardener or even a citizen scientist!
In the Zoology Department, ask us about how we track the famously evasive badger; where plants and animals survive in harsh environments and find the most suitable places to live. Learn how much of the Sun's energy is captured by living things on Earth; why babies kick in the womb; and why our stomach acid is stronger than car battery acid? Discover how parasites can change how animals think and how some chemicals can make some animals change sex. Researchers will be there to guide you to examine closely some of the most amazing creatures on the Planet in the Museum of Zoology.
All these, and more exciting projects help us understand better how Life makes it on Earth, and how humans could better protect this wonderful living heritage.
Discover Life is just one part of Discover Research Dublin, an annual event funded by the the EU under the Horizon 2020 framework as part of European Researchers Night. This takes place on the last Friday of every September. On this night, Trinity College Dublin invites the general public to the campus to take part in tours, talks, demos and chats. This year's main themes are Human, Tech, World and Society. Please click through to learn more about each one.
The event is FREE to attend and the Botany and Zoology buildings will be open from 6pm-10pm with the last entry at 9.30pm.
Authors: Anna M Csergo, @csergoa and Eileen Power @POWEREI
Image: Kevin Healy, @healyke