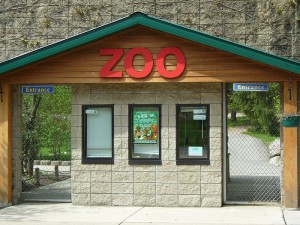 Tell someone on the street that you study Zoology and you can pretty much guarantee what their follow up question will be; "so you want to work in the zoo?" Well not quite. Of course some zoology graduates conform to the general stereotypes; the zookeepers, conservation managers and wildlife handlers who keep the rest of us supplied with a steady stream of tales of adventurous exploits and envy-inducing pictures on Facebook. But that is only one side of what you can do as a zoologist. It's not all about frolicking with cute animals. There's a healthy dose of molecular and lab-based research, theoretical studies and unavoidable number crunching which make up significant portions of life as a zoologist. Not to mention the diverse career opportunities, in areas such as science communication, education, policy and management, that are available to zoologists who venture beyond traditional research jobs.
A group of Transition Year students (15/16 year olds) recently spent a week in the department learning about what it's like to study and work as a zoologist. Some of their questions and misconceptions prompted me to write this blog. Consider it the lowdown on zoological life if you will.
Zoology is not just about cute animals
If your interest in zoology stems from a desire to spend your days playing with puppies or equivalent bundles of cuteness then be warned. Such opportunities do arise during a degree course but they are relatively limited. You will spend more time in lecture rooms, dissecting dead animals or behind a computer than you will interacting with live animals. Of course field courses, summer research opportunities and final year undergraduate projects do offer many opportunities for hands-on, practical experience but these are the exceptions rather than the rule for life as an undergraduate zoologist. Post-graduation is another story entirely: there's puppies, meerkats, elephants and dolphins aplenty if that's what you want!
Zoology is not stamp collecting
Modern zoology stems from the long scientific traditions of enthusiastic naturalists: the genteel country gentlemen who wiled away the hours with contemplations of beetles and the exotic explorers who bravely ventured forth into unknown lands. These origins have created a common misconception that modern zoology follows the same veins; we may collect DNA sequences rather than butterflies now but surely it's all just descriptive stamp-collecting at heart? Well, no. The methods and techniques used in zoology research are just as scientifically rigorous and complex as the "machines that go ping" which grace any physics or chemistry lab. Zoology is no more exempt from number crunching and computational methods than any other scientific discipline. You don't have to be a maths whizz or computer nerd but a career in zoology, no matter what branch, will inevitably involve quantitative and not just qualitative analyses.
(Most) Zoologists are not hippy dippy animal lovers
A common misconception about being a zoologist is that it's a just a fancier term for people who are only concerned with animal rights and issues. So we should all be strict vegans who spend our holidays trying to board Japanese whaling ships and we would rather halt economic progress than lose a single species of ant to extinction. Inevitably there is an element of truth to these ideas. We chose to study zoology because we're fascinated by the natural world and the logical progression of such interests is a desire to protect and conserve all aspects of life on our planet. But our pro-animal tendencies don't equate to making us anti-human!  Zoology teaches us to develop and apply appropriate, practical and realistic management and conservation actions to protect biodiversity while also enhancing human economic and social livelihoods.
Zoologists don't just do field work
I chose to study science generally and zoology more specifically because I was adamant that I didn't want to be stuck at a desk in an office. Guess where I spend most of my days now? Zoology isn't all about trekking through jungles or diving on ocean reefs. Most research zoologists spend the majority of their time indoors whether that's at the lab bench or behind a desk. The difference lies in the fact that, unlike a "normal" desk job, zoology provides plenty of opportunities to get out of the office whether that's catching vultures in Swaziland, perusing museum collections, island hopping in Indonesia or traveling the world for conferences.  These are the undoubted highlights of any research project but they represent the cream of zoological life: usually you will spend far more time working at your computer than exploring the outside world.
Zoology is…great!
Don't be fooled by the apparent negativity of the points above. I love studying zoology. I love the diversity of the subject, the breadth of knowledge to which we are exposed, the fascinating research questions we study and our undeniably awesome opportunities to travel.  I fell into zoology by accident rather than design and I could not be happier with my choice of subject. Research careers in zoology are varied and exciting but a zoology degree is also great preparation for so many opportunities beyond the realms of traditional research. Zoology is suited to people who are interested in nature, the environment, biology in general or anyone who is a confirmed lifelong disciple of Sir David. Zoologists are well equipped to take up any variety of career paths.
Our horizons both include and extend beyond the zoo gates!
---
Author: Sive Finlay, sfinlay[at]tcd.ie, @SiveFinlay
Image Source: Wikicommons